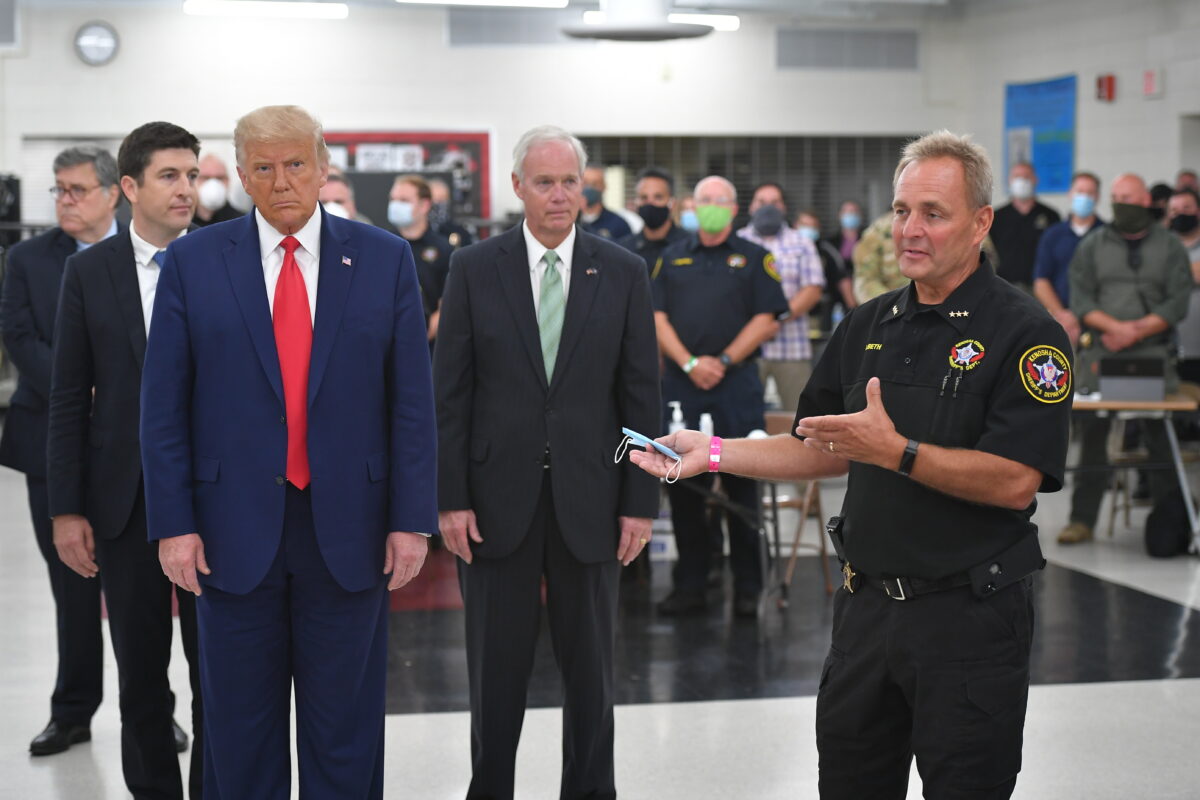 Former President Donald Trump gave an enthusiastic endorsement of Sen. Ron Johnson (R-Wis.) Thursday, calling on him to run for a third term in the Senate. The Wisconsin senator has not made his decision public yet.
"Even though he has not yet announced that he is running, and I certainly hope he does, I am giving my Complete and Total Endorsement to Senator Ron Johnson of Wisconsin," Trump said in a statement released by his political action committee, Save America.
"He is brave, he is bold, he loves our Country, our Military, and our Vets," Trump said. "He will protect our Second Amendment and everything else we stand for. It is the kind of courage we need in the U.S. Senate. He has no idea how popular he is. Run, Ron, Run!"
Johnson has not formally announced his intentions for the next election cycle. The Senator's office did not immediately respond to a request for comment on Trump's endorsement or his plans.
Johnson has been a backer of the America First movement and a staunch Trump ally. He was one of the senators that sought to investigate the Nov. 3 election results and the many irregularities that occurred in key states during the counting of ballots.
In a January press statement, Johnson said, "There are so many irregularities here. There are so many allegations that need a full investigation. That's really why I signed on Ted Cruz's effort. Let's at least do a 10-day emergency investigation. Let's organize this, let's lay it out for the American public."
Two Democrats plan to challenge Johnson during the primary if he decides to run for the Wisconsin senate seat—Alex Lasry, on leave from his executive job with the Milwaukee Bucks, and Outagamie County Executive Tom Nelson.
"Ron Johnson has been Donald Trump's most trusted lackey in the U.S. Senate," Lasry wrote of the endorsement on Twitter. "It's no surprise that Trump is supporting him for reelection. We need a Senator who will work for Wisconsinites, not for his political allies."
Meanwhile, Nelson wrote in response to Trump's support, "Ron Johnson spent four years begging for Trump's approval, from lying about COVID to flying to Russia for 4th of July, to helping him incite the Capitol insurrection. So Congrats, @SenRonJohnson, you've got yourself a pat on the head from the worst president."
While Nelson's comments accuse Trump of insurrection, the former president was acquitted of that charge during an impeachment trial in February. Johnson condemned the Jan. 6 breach of the Capitol and has been calling for a more independent investigation into the incident than the congressional effort put forth by Speaker Nancy Pelosi.
Johnson sent letters in late January to the current and former Sergeants at Arms of the U.S. House of Representatives and U.S. Senate seeking information about the security planning done prior to the Electoral College certification on Jan. 6.
"The breach of the Capitol on January 6, 2021, was totally unacceptable. My sincere condolences to the loved ones of those who died," Johnson wrote in the letter. "The American public has the right to know exactly what happened, what actions were and were not taken, and what planning and discussions occurred prior to the breach."




View original Post