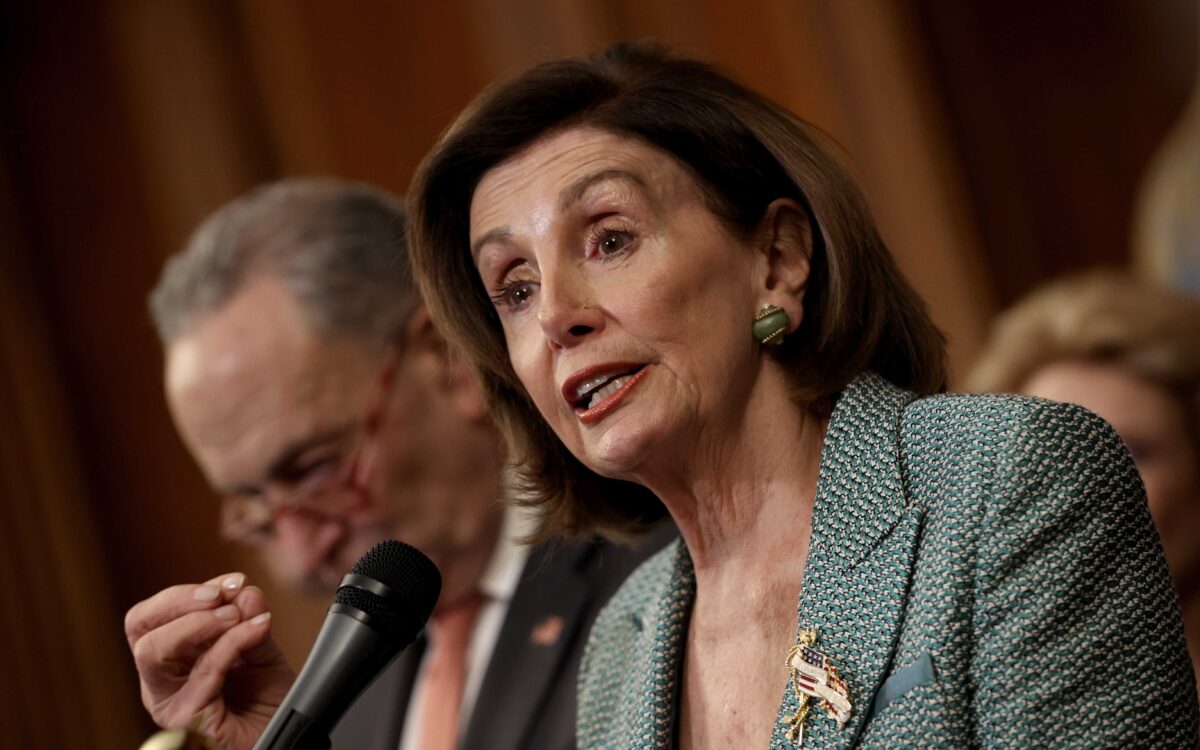 Top Democrats in the House came to the defense of Rep. Liz Cheney (R-Wyo.), the GOP's third-highest ranking member in the lower chamber who is currently in the midst of a battle involving her political future.
House Speaker Nancy Pelosi (D-Calif.) on Tuesday told reporters: "I do commend Lynn Cheney [sic] for her courage, for her patriotism."
"I don't welcome" the GOP's "participation in our caucus, and I'm sure they don't welcome my participation in theirs," Pelosi later added.
House Majority Leader Steny Hoyer (D-Md.) told The Washington Post that Cheney "is principled and she believes in the truth," adding: "It is a shame that the party has fallen to the place where a Liz Cheney, as I said, principled, committed to the truth and a conservative Republican, is somehow not accepted as a leader in the Republican Party."
Cheney has drawn the ire of House Republicans, including its leadership, in recent days for repeatedly criticizing former President Donald Trump—considered likely the most popular figure in the Republican Party—as well as Republican senators who voted to overturn the results on Jan. 6. Cheney has also feuded with House Minority Leader Kevin McCarthy (R-Calif.) during a contentious news conference with reporters, and she has taken particular umbrage with Trump's claims about the 2020 election.
House Minority Whip Steve Scalise (R-La.), Republicans' second-highest ranking member in the House, said Wednesday that he will throw his support behind Rep. Elise Stefanik (R-N.Y.), who backed some of Trump's key policies and supported some of his post-Nov. 3 claims of election fraud.
"House Republicans need to be solely focused on taking back the House in 2022 and fighting against Speaker [Nancy] Pelosi and President [Joe] Biden's radical socialist agenda, and Elise Stefanik is strongly committed to doing that, which is why Whip Scalise has pledged to support her for Conference Chair," Scalise spokesperson Lauren Fine said in a statement.
Trump himself, in a post on his website, again described Cheney, the daughter of former Vice President Dick Cheney, as "warmongering" and threw his support behind Stefanik.
"Elise Stefanik is a far superior choice, and she has my COMPLETE and TOTAL endorsement for GOP Conference Chair. Elise is a tough and smart communicator!" he wrote.
As for McCarthy, he told Fox News Tuesday that Republicans are concerned that Cheney isn't on message.
"There's no concern about how she voted on impeachment. That decision has been made. I have heard from members concerned about her ability to carry out the job as conference chair—to carry out the message," he said.
The Epoch Times has contacted Cheney's office for comment.


View original Post