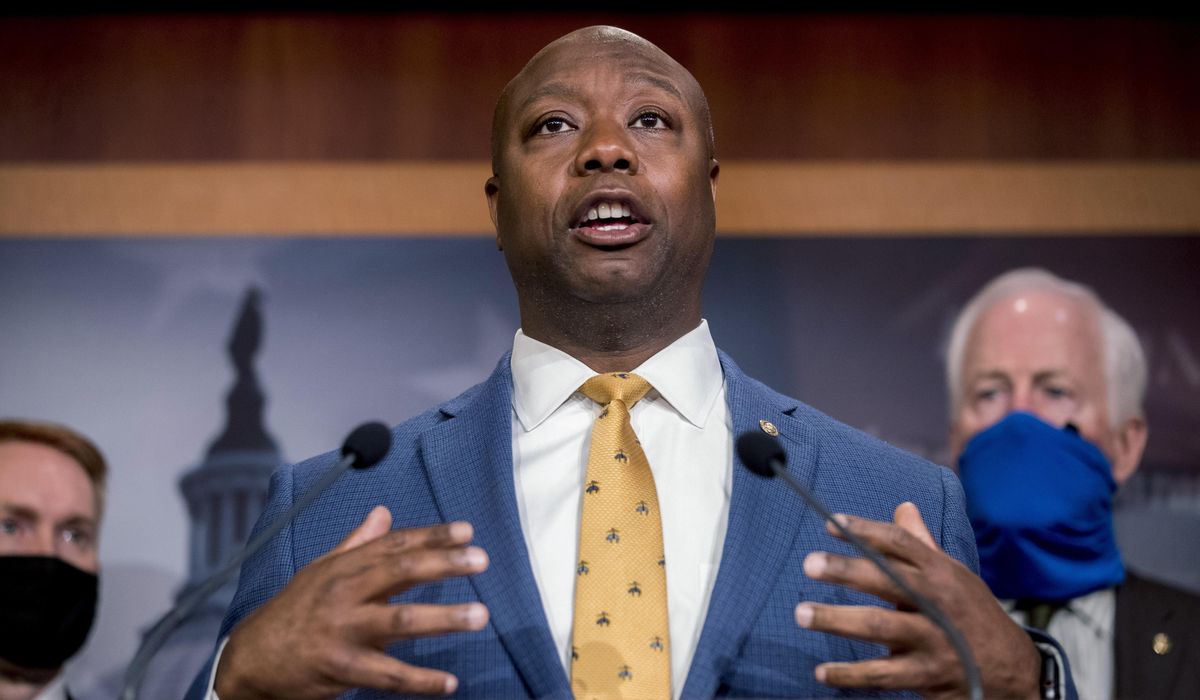 Senate Democrats and Republicans are nearing a deal on the George Floyd bill that would overhaul the country's policing policies, Sen. Tim Scott said Wednesday.
Mr. Scott, who is the only Black Republican in the chamber and is leading the GOP in the negotiations, announced the progress a day after a Minnesota jury convicted former police officer Derek Chauvin of murdering Floyd during an arrest in May 2020.
"I think we are on the verge of wrapping this up in the next week or two depending on how quickly they respond to our suggestions," Mr. Scott said.
The House in March passed the George Floyd Justice in Policing Act that would, among other things, create a national database of police misconduct, require federal law enforcement officials to use body and dash cameras, and ban federal officers from using chokeholds or no-knock warrants.
Pressure on lawmakers to enact policing reforms has only increased after the Chauvin conviction.
"We will not rest until the Senate passes strong legislation to end the systemic bias in law enforcement," Senate Majority Leader Charles E. Schumer declared on the Senate floor earlier Wednesday.
Mr. Scott, South Carolina Republican, said lawmakers are discussing a compromise on the biggest sticking point: a Democratic-backed measure to eliminate what's known as qualified immunity.
Qualified immunity is a legal principle that shields police officers and other government officials from civil lawsuits for their actions in the line of duty.
Eliminating that is "off the table for me," Mr. Scott said.
Lawmakers are discussing an alternative of making it easier to sue police departments.
"There is a way to put more of the onus or the burden on the department, or on the employer, than on the employee. I think that is a logical step forward," Mr. Scott said. "Improving the ability of the victim's family or the victim, to go after the departments is what I said last year on the floor and in most interviews. And I think that is a way that we can make progress towards a bill that actually has the kind of impact that I think is helpful."
He said Democrats, including Sen. Cory Booker of New Jersey, are receptive to the idea.
Mr. Booker's office did not immediately respond to a request for comment.




View original Post