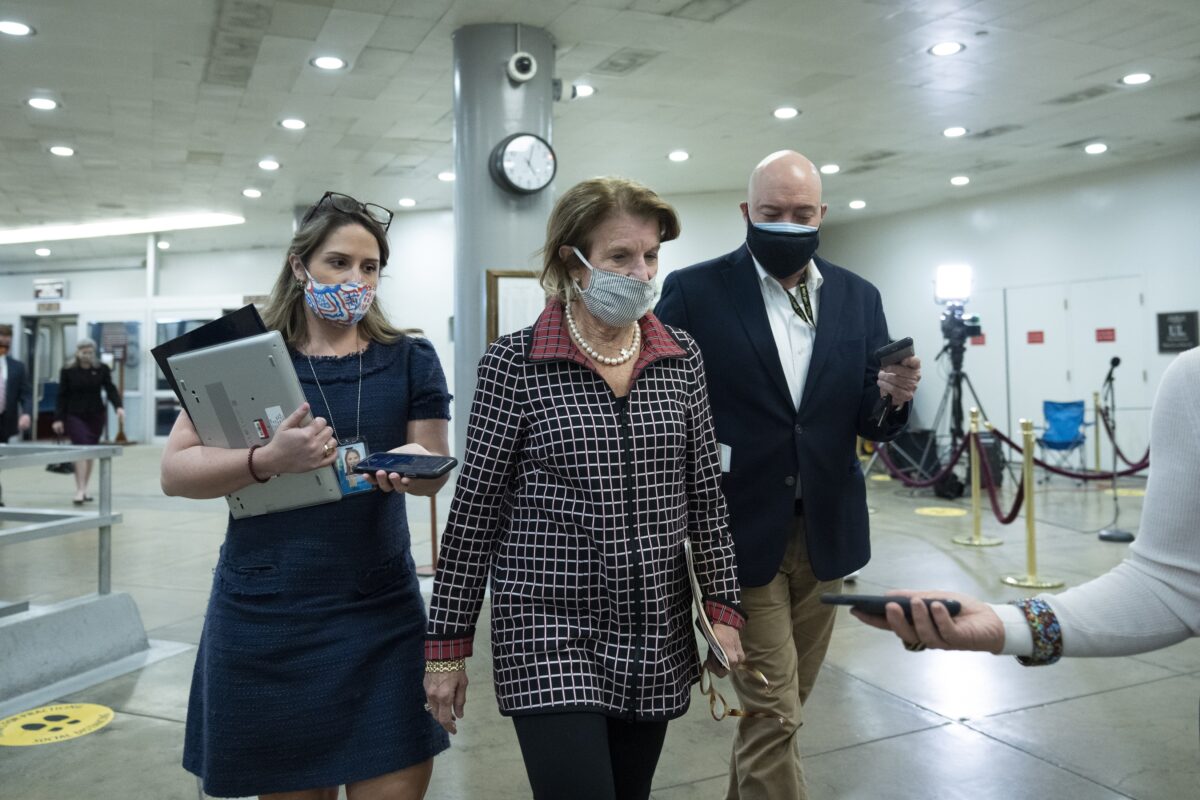 Republicans are hammering out an infrastructure proposal that is aimed at serving as a counter to the $2.3 trillion plan from President Joe Biden, with an eye on unveiling it soon.
"We need to find, settle on a conceptual sort of idea and hopefully we'll do that in the next several days. And then I think we get a group together that certainly I would be a principal part of it," Sen. Shelley Moore Capito (R-W.Va.) told reporters on Capitol Hill on Tuesday. "Hopefully by the end of the week."
A subset of GOP senators are working on the counterproposal, which is likely to come in between $600 and $800 billion.
In contrast to Biden's expansive plan, which includes $400 billion for elder and disabled care, the Republican one will focus on what has traditionally been considered infrastructure, such as roads and bridges.
There will be a clear contrast between some portions of the Biden proposal and the one the GOP is working on, Capito said.
She hopes lawmakers can go "the old-fashioned way" with infrastructure, engaging in "give and take" and ending up with a final plan that receives bipartisan support. Capito's team is in touch with the White House about the counterproposal.
Republicans have expressed dismay with the disparate components of the Democrat proposal, which comes on the heels of Biden and congressional Democrats ramming through a $1.9 trillion bill that was ostensibly for COVID-19 relief but included portions that had little to do with the pandemic.
"I think the president has laid down a pretty big, a pretty big proposal, a huge proposal. And there's a lot in it that we're talking about as Republicans and saying, 'this is good, hard infrastructure that we need,'" Sen. Lisa Murkowski (R-Alaska), another senator involved in the GOP counterproposal, told reporters in Washington.
But there's also a feeling of, "Do you need to use this as a vehicle for everything that you've ever wanted at any time?" she added. "And I think this is where there's room for fair discussion."
Even with the most generous definition of infrastructure, about 80 percent of Biden's proposal would allocate money for other things, Sen. Rob Portman (R-Ohio) said.
"So we're trying to narrow it down to true infrastructure. And then, of course, we're looking at ways to pay for it. And we want to make it bipartisan," he told reporters.
Biden has expressed a willingness to hear concerns about the plan, but there are few signs thus far that he will accept a narrowed down package, even though that would achieve the bipartisanship that has so far failed to bring about in his time in office.
"I am prepared to compromise, prepared to see what we can do and what we can get together on," he told reporters at the White House in Washington on Monday, before meeting with a bipartisan group of Congress members on infrastructure. But he soon added: "I put a lot in the package; I think it all should be included."
Biden asked the members for their feedback, discussed follow-up proposals, and underscored that "inaction is not an option," according to an administration readout.
"I think the fact that the President Biden talking to Republicans is really encouraging. I think there's a deal somewhere between $800 and a trillion," Sen. Lindsey Graham (R-S.C.) said on Capitol Hill on Tuesday.
Democrats have largely coalesced behind Biden's plan. "I think the president's proposal is the right one," Sen. Chris Van Hollen (D-Md.) separately told reporters in Washington.
Another bipartisan plan would chop the infrastructure pieces from Biden's proposal and hold a vote on that portion. The rest would be in a separate bill that Democrats could ram through using budget reconciliation, which avoids needing any Republican votes in the Senate as long as all Democrats support it.
"I think that if we come together in a bipartisan way to pass that $800 billion hard infrastructure bill that you were talking about, that I've been urging, then we show our people that we can solve their problems," Sen. Chris Coons (D-Conn.), who is working on that two-piece proposal, said on "Fox News Sunday."
"We've all agreed for a long time that we need to invest more in American infrastructure, we just disagree about how to pay for it. And I think in the next few weeks, we should roll up our sleeves and sit down and find ways that both parties can support to make these critically needed investments," he added.


View original Post