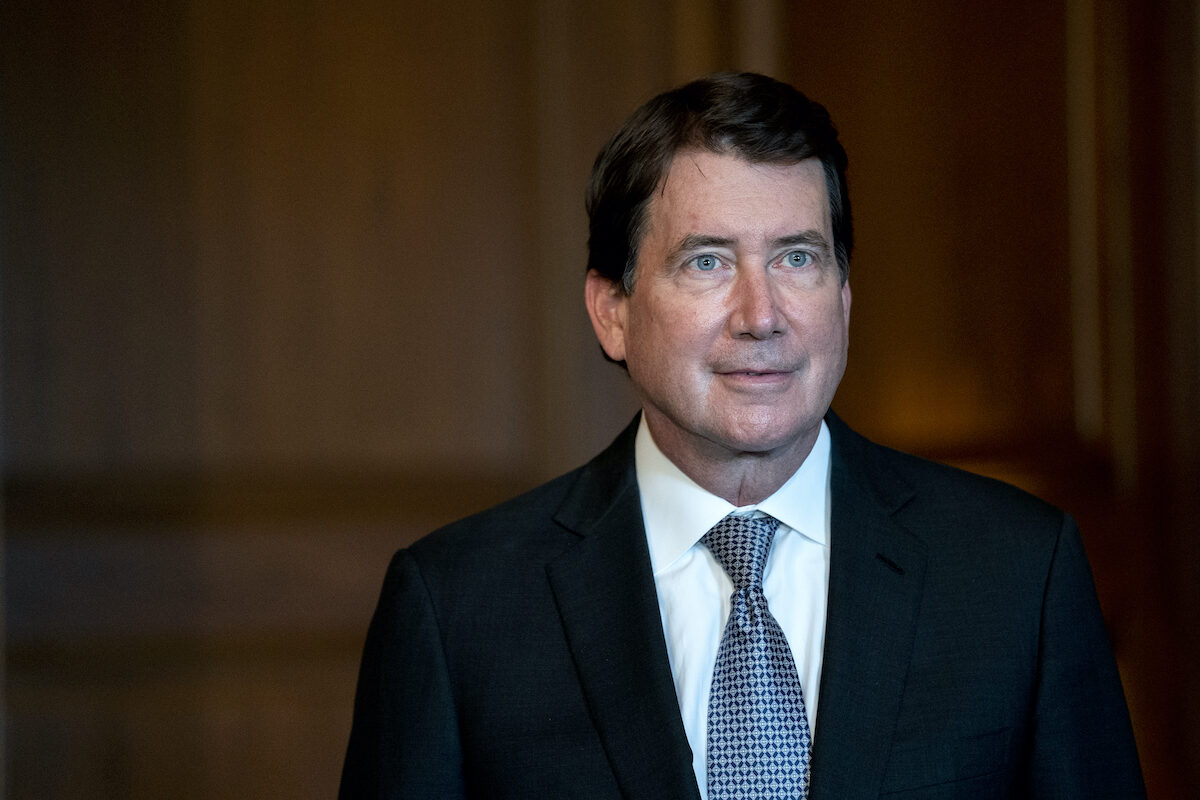 Eighteen GOP senators are asking FBI Director Christopher Wray to open an investigation into President Biden's key Pentagon nominee to find out whether he solicited or disclosed classified information after his tenure with the Obama administration.
The senators do not want the nomination of Colin Kahl for undersecretary of defense for policy to advance for a full vote until the FBI has completed an investigation, they wrote in a letter (pdf).
Sen. Bill Hagerty (R-Tenn.) is leading the GOP effort to have Kahl investigated, saying the nominee's answers to the chairman and ranking member of the Senate Committee on Armed Services during a hearing on March 18 raised more concerns instead of providing answers.
"We believe an FBI investigation is warranted given Kahl's evasive written response on March 23, 2021 … regarding Twitter posts by Kahl in which he appeared to publicly disclose classified information and expressly state that he had received classified information from officials in the Executive Branch," the letter states.
The senators asked Wray to specifically probe Kahl's Twitter posts. The senators write, "We also have subsequently discovered additional Twitter posts by Kahl that deserve greater scrutiny."
"By publicly sharing internal military plans and deliberation, Kahl appears to have exposed U.S. national security interests," the letter continues. "Kahl's growing record of apparent mishandling of classified information and controlled unclassified information and his evasive response regarding this issue falls short of the standard required for holding one of our nation's top national security positions," the GOP senators wrote.
Kahl's office did not immediately return a request for comment on the GOP letter.
Senators Tom Cotton (R-Ark.), John Cornyn (R-Texas), Ted Cruz (R-Texas), Marco Rubio (R-Fla.), Marsha Blackburn (R-Tenn.), Steve Daines (R-Mont.), Thom Tillis (R-N.C.), Mike Braun (R-Ind.), Roger Wicker (R-Miss.), Roger Marshall (R-Kan.), Cynthia Lummis (R-Wyo.), Rick Scott (R-Fla.), Jonie Ernst (R-Iowa), Tommy Tuberville (R-Ala.), Josh Hawley (R-Mo.), James Lankford (R-Okla.), and Cindy Hyde-Smith (R-Miss.) also signed the letter to Wray.
The senators asked Wray to specially answer four questions: Did Kahl disclose classified information on social media or to other media outlets? Did Kahl communicate with U.S. government officials about classified information, especially regarding the activities of the National Security Council? Did Kahl receive any classified information from U.S. government officials? Did he violate his classified information nondisclosure agreement?
In March, the Senate Armed Services Committee, in a 13-13 vote, advanced Kahl's nomination to lead the Pentagon's policy department but before confirmation, Kahl will have to overcome one more procedural hurdle on the Senate floor.
Sen. Jim Inhofe (R-Okla.), ranking member of the Senate Armed Services Committee, released a statement Tuesday following the Republican letter.
"In top national security positions like Under Secretary of Defense for Policy, the duty to protect classified and sensitive information is an essential prerequisite for the job," Inhofe said. "If Dr. Kahl's past tweets did, in fact, disclose sensitive or confidential national security information, this could be disqualifying for the position and another example of his questionable judgment. My colleagues' concerns should be investigated, and the Senate should be able to review the results of this investigation before we vote on this critical nomination."
President-elect Joe Biden said of Kahl when announcing his planned nomination, that former Obama officials would "help lead the Department of Defense with integrity and resolve" and "safeguard the lives and interests of the American people."


View original Post