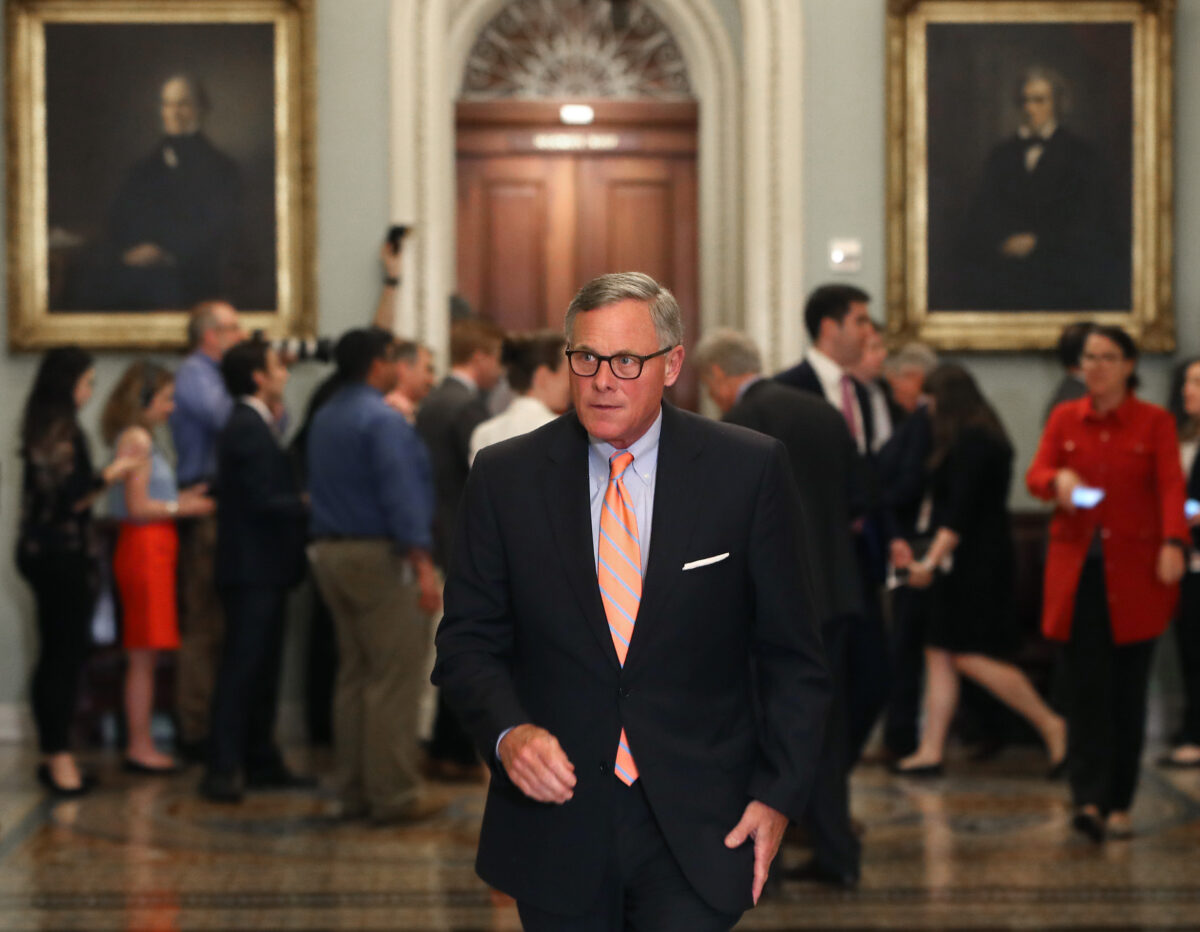 Sen. Richard Burr (R-N.C.), who voted to convict former President Donald Trump in February's Senate trial, said he opposes the creation of a 9/11-style commission to examine the Jan. 6 Capitol breach, which was passed in the House on Wednesday.
Burr, who previously served as chairman of the Senate Intelligence Committee, noted the Department of Justice, several other agencies, and several congressional committees are currently investigating the Jan. 6 incident.
"The Justice Department is currently conducting one of the largest federal criminal investigations in history and has already made hundreds of arrests," the Republican senator, who announced he won't seek reelection in 2022, said in a statement. "These investigations are being led by the committees with jurisdiction, and I believe, as I always have, this is the appropriate course. I don't believe establishing a new commission is necessary or wise," Burr added.
Burr's remark came after Senate Minority Leader Mitch McConnell (R-Ky.) announced on the Senate floor this week that he would not support a Jan. 6 commission, saying that it would be slanted and unbalanced in favor of Democrats.
"After careful consideration, I've made the decision to oppose the House Democrats' slanted and unbalanced proposal for another commission to study the events of Jan. 6," McConnell said on the floor.
Although the commission bill passed in the Democrat-controlled House—with McConnell's, and now Burr's, refusal to support it—the Senate appears unlikely to pass the measure, unless Democrats can muster enough support to end the 60-vote filibuster.
Senate Majority Leader Chuck Schumer (D-N.Y.) has vowed to fast-track the bill. Speaking on the floor on Thursday, Schumer said there is "no good justification" for opposing the commission, saying that the House measure received some Republican support.
House Minority Leader Kevin McCarthy (R-Calif.) this week also said he opposes the measure, although about 35 House Republicans voted to support the bill on Wednesday.
The bill currently does not meet a condition that McCarthy and some other Republicans asked for—namely, to also investigate other political violence, such as Antifa riots.
Other GOP senators who voted to convict Trump over the breach during his second impeachment trial have sent mixed signals about whether they'd support it.
Among them, Sen. Bill Cassidy (R-La.), suggested to reporters that he may support the commission in its current format, telling a reporter that he doesn't share McConnell's view about the commission and added that he's "inclined to support it" at this point.
Sen. Ben Sasse (R-Neb.) and Pat Toomey (R-Pa.) have not said whether they would support it, and Sen. Lisa Murkowski (R-Alaska) has declined to comment. The two others, Sens. Susan Collins (R-Maine) and Mitt Romney (R-Utah), told reporters they want the House-passed bill to be amended.


View original Post