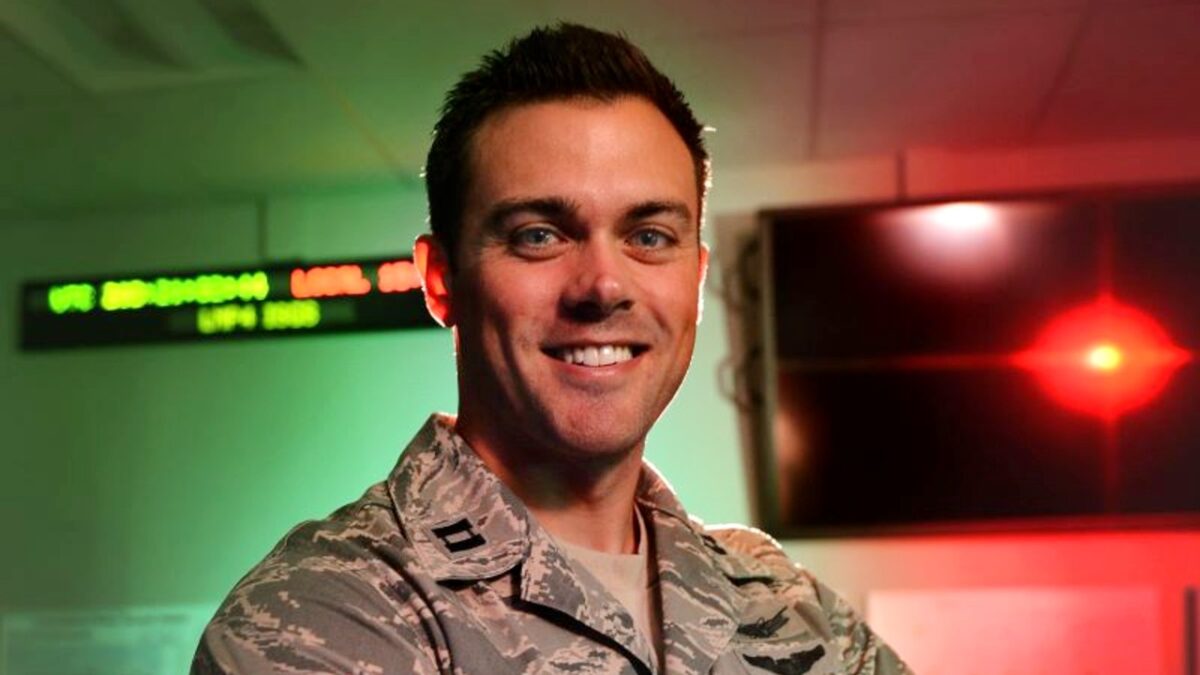 Lt. Col. Lohmeier Said He's Received 'Thousands' of Supportive Messages
A U.S. Space Force lieutenant colonel who was relieved of his command "due to a loss of trust," said that he is being "misportrayed" on the internet with respect to some of his remarks about communism on a podcast earlier this month.
Lt. Col. Matthew Lohmeier, who was previously in command of the 11th Space Warning Squadron at Buckley Air Force Base in Aurora, Colorado, also received tremendous support privately from servicemembers, noting that "thousands" of messages have been sent to him, some saying that they feel they have "lost their voice," he told Fox News.
"I'm being misportrayed online—I don't criticize any leader, or any person in the DoD (Department of Defense) or any elected officials—but I try to tee up ideas that I think are toxic," he said.
Lohmeier noted that has been reassigned within the Space Force, yet retains his rank.
The controversy played out after he published a book that warns against the spread of Marxism and Critical Race Theory in the military.
The title of his book is "Irresistible Revolution: Marxism's Goal of Conquest & the Unmaking of the American Military" and on Sunday evening, it shot to the top of Amazon's best-seller list.
Lohmeier explained that he wasn't trying to be supportive of a specific political party.
"I don't believe I was being partisan. It is not politically partisan to expose or attack Critical Race Theory or Marxism," Lohmeier told Fox on Monday.
"The reason I say that is because Critical Race Theory and Marxism are antithetical to American values. Critical Race Theory fuels narratives that attack America's founding documents," he said.
Critical Race Theory branched out from Marxist "critical theory," which has been progressively finding its way throughout American universities during recent decades.
"This decision was based on public comments made by Lt. Col. Lohmeier in a recent podcast. Lt. Gen. Whiting has initiated a Command Directed Investigation on whether these comments constituted prohibited partisan political activity," a reads a statement from Space Force.
The Pentagon didn't respond to The Epoch Times' request for comments about Lohmeier's ouster.
In addition, several GOP Representatives expressed their support for him.
Rep. Byron Donalds, (R-Fla.) believes that Lohmeier is a hero and asserted that the "leftist mob" is trying to cancel him.
"Lt. Col. Matthew Lohmeier is a hero, not only for putting on the uniform every day to defend our nation but also to defend the freedoms of the leftist mob attempting to cancel him," Donalds wrote. "CRT should have no place in our classrooms, Armed Forces, or country as a whole."
Rep. Dan Crenshaw, (R-Texas) wrote that the story should not be forgotten, adding that the military needs to be ready to fight and secure victories, not how to be social justice warriors.
"We need to be preparing our warriors to fight and win battles, not how to be SJWs," Rep. Crenshaw, former Navy SEAL, wrote on Twitter.
"Far left critical race theory is taught while speaking out against MARXISM is punished?? Share this. Don't let this story slip away," he added.
Other Republicans such as Sen. Ted Cruz (R-Texas), Rep. Andy Biggs (R-Ariz.), and Rep. Dan Bishop (R-N.C.) weighed in to defend Lohmeier as well.


View original Post