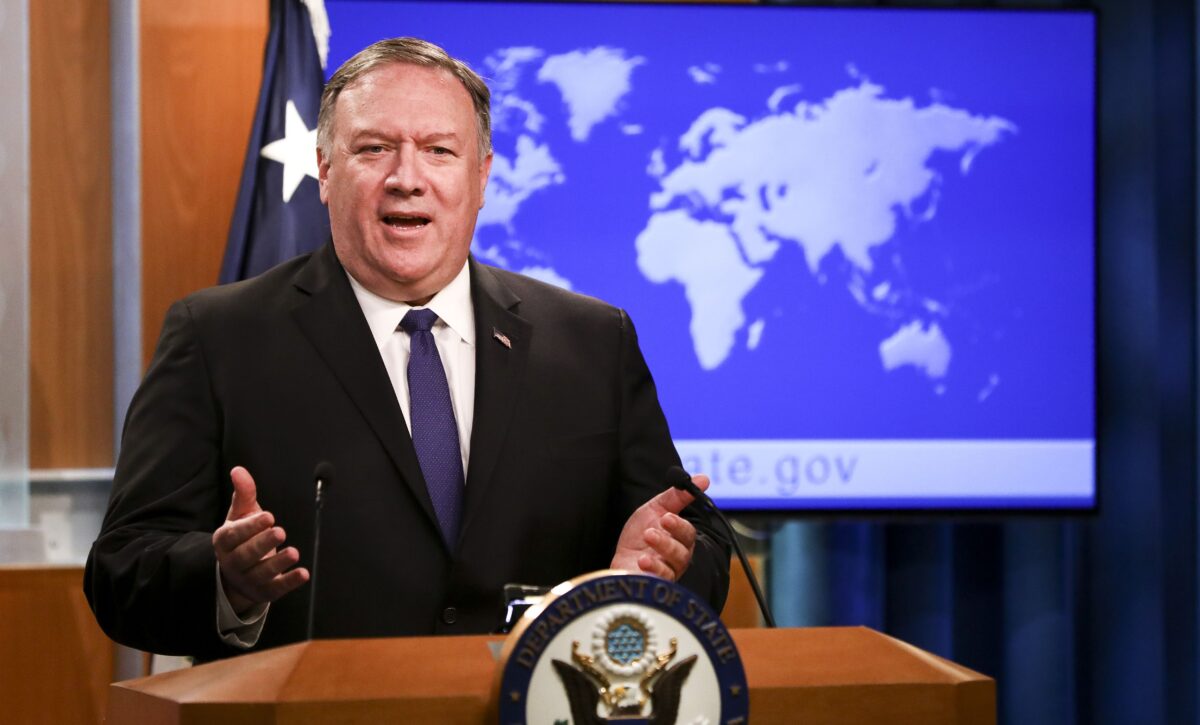 Mike Pompeo, while secretary of state, improperly asked a political appointee to carry out personal tasks, a watchdog said in a report published Friday.
Pompeo and his wife, Susan, made over 100 requests to employees in the State Department's Office of the Secretary, including the unnamed appointee, for work of a personal nature, such as picking up personal items, planning events, and mailing Christmas Cards, the department's inspector general found.
The requests "had no apparent connection to the official business of the Department and, thus, appear inconsistent with the Standards of Ethical Conduct regarding use of a subordinate employee's time," the watchdog said.
Federal rules state that employees may not direct a subordinate to "perform activities other than those required in the performance of official duties or authorized in accordance with law or regulation."
Directing a subordinate to "perform activities other than those required in the performance of official duties or authorized in accordance with law or regulation" during non-duty hours without appropriate compensation is an improper use of public office for private gain, the 26-page report stated.
In one case in 2018, Susan Pompeo asked a subordinate to research a way to obtain a profile of her husband that was published in Politico. In another, she asked an adviser to arrange for flowers to be sent to her friends, who were recovering from illnesses.
On at least six occasions, Mike Pompeo and his wife instructed the adviser to make or request prints of photographs so they could keep them as gifts or keep them as family records.
The couple also asked the same person to help care for their dog, including picking the animal up from their home and dropping it off with a boarder.
No compensation was offered for the tasks, Mike Pompeo told investigators.
Pompeo said in his interview that he did not think the requests were improper, telling them that his wife was asking a longtime friend, the adviser, to take on "a small simple task to help her out." He added that it was "perfectly fine for friends to help each other."
However, the adviser told investigators that she performed the tasks not as personal favors, but because she thought they were part of her official duties.
Some other employees were also assigned personal tasks, even though they did not have relationships with the Pompeos prior to working for them in the State Department.
Mike Pompeo's lawyer also noted that most requests were made by Susan Pompeo, who was not a department employee. Susan Pompeo in her emails often indicated her requests were on behalf of her husband, investigators said, such as saying "The secretary would like you to" or "I have spoken with the Secretary."
Mike Pompeo, who left office on Jan. 20 with the changing of administrations, did not immediately respond to a request for comment through the Hudson Institute, where he is employed.
The State Department watchdog said it was providing recommendations to the department "to mitigate the risk of future senior leaders committing similar violations."
Recommendations included amending ethics and travel guidance, amending a handbook to include examples or appropriate and inappropriate requests to subordinates, and publishing guidance on the use of a subordinate's time for tasks of a personal nature. The State Department agreed with all of the recommendations.


View original Post