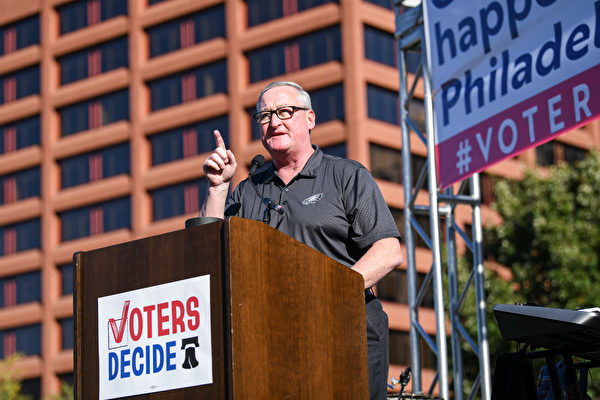 A Philadelphia Councilmember, as well as Italian American groups, are suing the City of Philadelphia and Mayor Jim Kenney in U.S. District Court over a decision to rename the city's Columbus Day holiday to Indigenous Peoples' Day.
The plaintiffs alleged that the mayor's executive orders discriminated against Italian-Americans while exalting another ethnic group.
Also cited are actions to remove the statue of Christopher Columbus from south Philadelphia and a statue of ex-mayor Frank Rizzo last year from near City Hall.
The filing alleged that Kenney "took unilateral actions against two iconic Italian American statues prominently displayed for decades—the Frank L. Rizzo from the plaza at the Municipal Services Building and the attempted removal of the 140-year-old Christopher Columbus statue from Marconi Plaza."
The suit continues to say, "No other statues in the City (amongst the many hundreds) have been targeted by the Mayor."
Both statues in the last summer became a target for protests after the killing of George Floyd.
The lawsuit further argues that Kenney has shown a pattern of a "long line of divisive, anti-Italian American discriminatory actions," and he has stereotyped Italian-Americans in public rhetoric as "Cousin Guido" and "vigilantes."
In addition to Philadelphia Councilmember Nark Squilla, the plaintiffs of the suit include 47 local and national Italian-American organizations, such as the 1492 Society, the organization that plans Philly's annual Columbus Day parade that was also canceled by Kenney; the Conference of Presidents of Major Italian American Organizations, a coalition of prominent Italian American groups; the National Italian American Bar Association; and Jody Della Barba, a former secretary to Frank Rizzo.
The plaintiffs say they are not against Indigenous People. "While both groups' ethnicity deserve recognition, Mayor Kenney may not take action that discriminates against Italian Americans to exalt another ethnic group in its place," the lawsuit says.
George Bochetto, an Italian descendent and the attorney filing this federal lawsuit who has been practicing law for about 40 years, said this lawsuit is to "put a check" on "executive prejudices."
"One of the most important things about this is that this particular Mayor seems to have a prejudice against Italian Americans. The next mayor of Philadelphia may have a prejudice against some other group. And I think it's very, very important to put a check on these kinds of executive prejudices that this mayor has, so that we don't have a problem, either in this community, or some other community, for example, the Asian American community, or the African American community. Yeah. Who knows which community is going to be next, which ethnic group is going to be next for him to attack?" Bochetto said in an exclusive interview with The Epoch Times.
"I think the challenge is to get people to understand that this is a bigger issue than just Italian Americans. This is an issue of canceled culture. This is an issue of trying to play favorites amongst ethnic groups, and the government has no business doing that," Bochetto went on to say, "I'm hopeful that we can have an impact on this mayor, and maybe mayors in other cities that would try to do the same thing to tell them that this is not the way to run a country. You don't start playing favorites amongst ethnic groups. Our Constitution requires everybody gets treated equally, under the law."
Squilla, a democrat and the only Italian American lawmaker on Council, is in a rare clash with Kenney and a vocal critic of the holiday switch. He argues the mayor "has to follow a process."
"I think the purpose of this is, you know, this could be in the future of any other organization or any other ethnic group," Squilla told The Epoch Times. "If an individual or a mayor or somebody unilaterally decides they no longer want to have a holiday that represents a group of people, that they have to follow a process. And if they don't do that, then you know that we believe that the action was not legally taken."
Squilla continued to say: "All immigrants deserve, their goodwill to be remembered, their work ethic to be remembered, whether you came from another country, or whether you were here as a Native American or indigenous folks, we all deserve to be celebrated for what we did. … We don't have to do that by taking a day away from one person and give it to another group. Or we could do it by giving both people that opportunity to be celebrated and I think unity will definitely stop division."
On Tuesday, Kenney responded to the lawsuit, saying, "This lawsuit is a patently meritless political ploy and will waste precious resources at a time when we are trying to both deal with devastating pandemic and work to build a safer and more equitable city for all residents."


View original Post