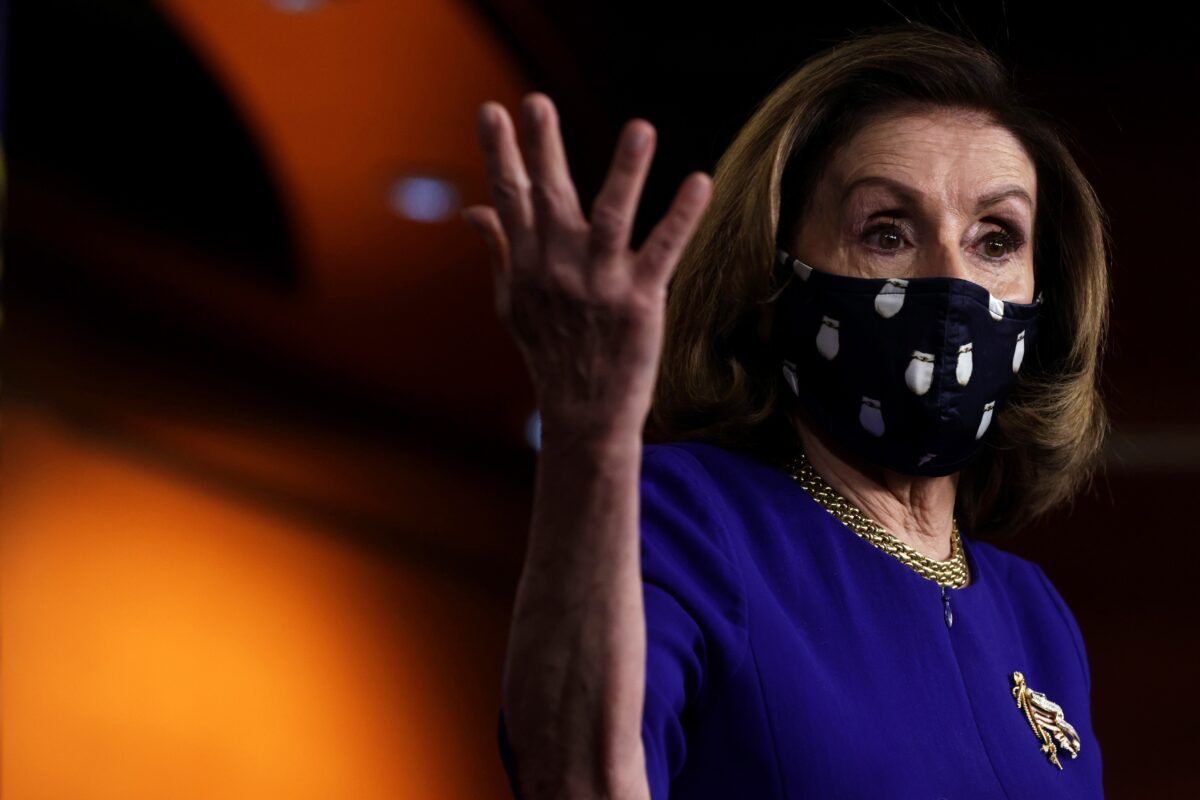 Expanding the Supreme Court could happen but should be studied first, House Speaker Nancy Pelosi (D-Calif.) said on Thursday.
A group of House Democrats were expected to announce a bill later in the day that would expand the nation's top court from nine seats to 13, with members upset that six of the current members were nominated by Republican presidents, including three Trump appointees.
Asked if she would commit to bringing the bill to a vote, Pelosi said, "no."
"I support the president's commission to study such a proposal but frankly, I'm not—right now we're back, our members, our committees are working, we're putting the infrastructure bill and the rest [together]," she told reporters in Washington during her weekly press conference.
Still, Pelosi is not ruling out expansion of the court, noting that it has been done before.
"I don't know that that's a good idea or a bad idea. I think it's an idea that should be considered, and I think the president's taking the right approach to have a commission to study such a thing," she said.
"It's a big step. It's not out of the question. It has been done before in the history of our country, a long time ago. and the growth of our country, the size of the country, the growth of our challenges in terms of the economy, etc., might necessitate such a thing. But I have no plans to bring it to the floor, no."
President Joe Biden last week signed an executive order creating a commission to study possible reforms to the Supreme Court, including potential expansion.
The commission, which will have up to 36 members appointed by the president, will produce a report that includes information about the role of the Supreme Court and an analysis of core arguments for and against expansion.
Republicans say changing the court's size amounts to court packing and note that the last time a president tried expansion—Democrat Franklin Roosevelt—the effort was rejected by Congress.
"This faux-academic study of a non-existent problem fits squarely within liberals' years-long campaign to politicize the court, intimidate its members and subvert its independence," Senate Republican Leader Mitch McConnell (R-Ky.) said.
Biden while a senator called the idea of court packing "boneheaded" but has recently expressed openness to doing so.
A number of sitting and late Supreme Court justices oppose expanding the court, including Clinton appointees Justice Stephen Breyer and the late Justice Ruth Bader Ginsburg.
Breyer told Harvard University Law School last week that such a move would only serve to erode the trust the public has in the court, which is meant to be independent of political influence.


View original Post