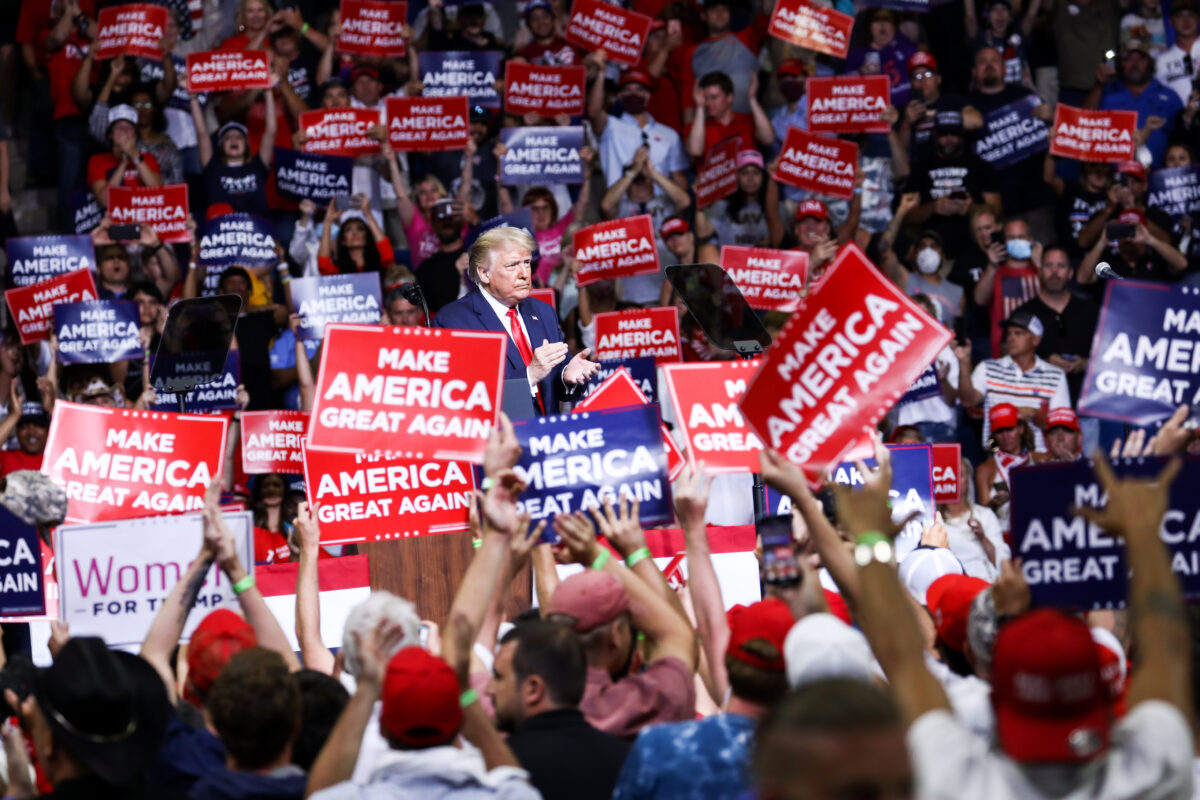 The organizer of a political action committee that was presented to prospective donors as supportive of then-President Donald Trump's re-election was charged this week with wire fraud.
Kyle James Bell started the Keep America Great Committee in January 2020 purportedly to support Trump's re-election efforts. He copied content and source code for his website from other legitimate websites for campaigns and committees supporting Trump without permission, according to a criminal complaint filed in federal court and obtained by The Epoch Times.
He then began using the committee to solicit donations. With the help of an email marketing company, Bell sent solicitations on behalf of his new group to tens of thousands of recipients. Authorities allege the marketing emails contained misinformation, such as promising to match any donation by five times.
"The materials also had the appearance of solicitations from the Trump Campaign containing the official campaign logo, misleading potential donors to donate" to the group instead of directly to the campaign, authorities wrote in the complaint.
Bell siphoned money he received to a company he created in Nevada called KAGC-LLC. He received over $246,000 in donations between January and October of last year.
Bell is also accused of applying for Payment Protection Program loans, or loans from the federal government for businesses struggling during the COVID-19 pandemic, on behalf of five different companies organized in the names of himself and his wife. The loan applications are said to have contained false statements and misrepresentations.
After a report in June 2020 about the Keep America Great Committee, Bell submitted a revised filing to the Federal Election Commission that allegedly included a false address and false names for organizers. The committee's website was seized by the FBI in the middle of 2020.
A filing to the commission for the committee from June 2020 reviewed by The Epoch Times states that it is based in Washington and run by two people named Amy Ashton and Jim Searcy.
That same month, Bell started another super PAC that was presented as supporting the election of then-Democrat candidate Joe Biden. Bell raised some $100,000 and spent nearly $23,000 on at least 33 advertisements on Google for the group.
Bell, who underreported the amount of money he earned from the Keep America Great Committee, according to the complaint, is also accused of making zero contributions to any candidates, political parties, or committees from either group he started, nor did he provide the promised "5X" matching of contributions.
Bell was charged with one count of wire fraud.
An attorney for the man did not respond to a request for comment.


View original Post