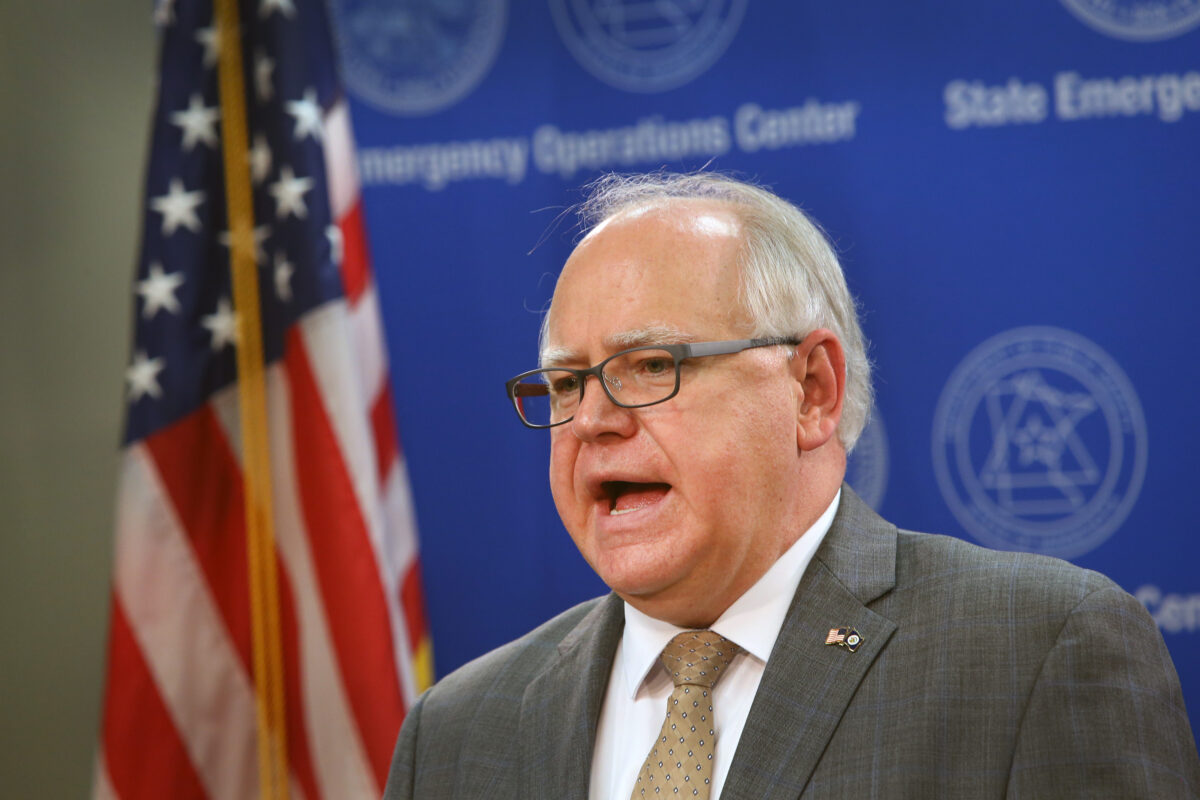 Minnesota Republicans on Monday accused Gov. Tim Walz of inciting violence with a statement he issued shortly after a 20-year-old was shot in the state over the weekend.
Walz, a Democrat, told the public that he was monitoring the situation in Brooklyn Center, where Daunte Wright was shot after resisting arrest.
"Gwen and I are praying for Daunte Wright's family as our state mourns another life of a Black man taken by law enforcement," he added.
Republican Party of Minnesota Chairwoman Jennifer Carnahan said the statement was inappropriate.
"A Governor's responsibility is to minimize turmoil, not fan the flames in challenging times. We pray for the family and friends of Daunte Wright, and hope for expediency in the investigation process," she said in her own statement.
"For a Governor to lead by casting blame and perpetuating a narrative of an unknown situation is not only irresponsible, it is conduct unbecoming of a Governor. We call on Governor Tim Walz to censure himself if he is not able to practice the discipline needed to lead our state in a way that helps us move forward together."
Violent demonstrations erupted in and around Brooklyn Center on Sunday, fueled by anger over the shooting.
Video footage released Monday showed Wright escaped from an officer and tried driving away before being shot. He was stopped for a traffic violation and had a warrant out for his arrest after failing to appear in court on unrelated charges earlier this month.
Brooklyn Center Police Chief Tim Gannon said the shooting was an accident. The officer who fired her weapon thought she was firing a Taser, he told reporters during a briefing.
The officer, who has not been publicly identified, has been placed on leave as an investigation takes place.
Walz focused on the officer's actions and the fact that Wright died, as opposed to the man resisting arrest, in a separate briefing on Monday.
"It goes without saying it's devastating and heartbreaking once again to address the death of a young black man with an interaction with police," he told reporters.
He called on the state legislature to hold hearings on proposed police reforms, mentioning how Maryland recently repealed the state's police bill of rights.
"There are things that can be done. There are proposals that are out there. There's proven remedies that can be put into place," he said, adding later that he felt routine traffic stops should not be "a heavily armed situation."
Walz said Minnesota is a place where people can demonstrate under the First Amendment but warned that wrongdoers would be caught. He noted that there were already concerns that the trial of former Minneapolis police officer Derek Chauvin, on trial for the death of George Floyd, would lead to violence.
"We have known for many months that as this trial and the focus of this nation was on this trial, that there would be those that want to both: those that want to bring about change, those that want to express their constitutional rights. Those that are angry, heartbroken, sad, fed up, tired, all of the things that they have every reason to feel," he said.
"We also know, and we saw it again last night, those that would try to take advantage of this to create chaos or damage will not be tolerated."


View original Post