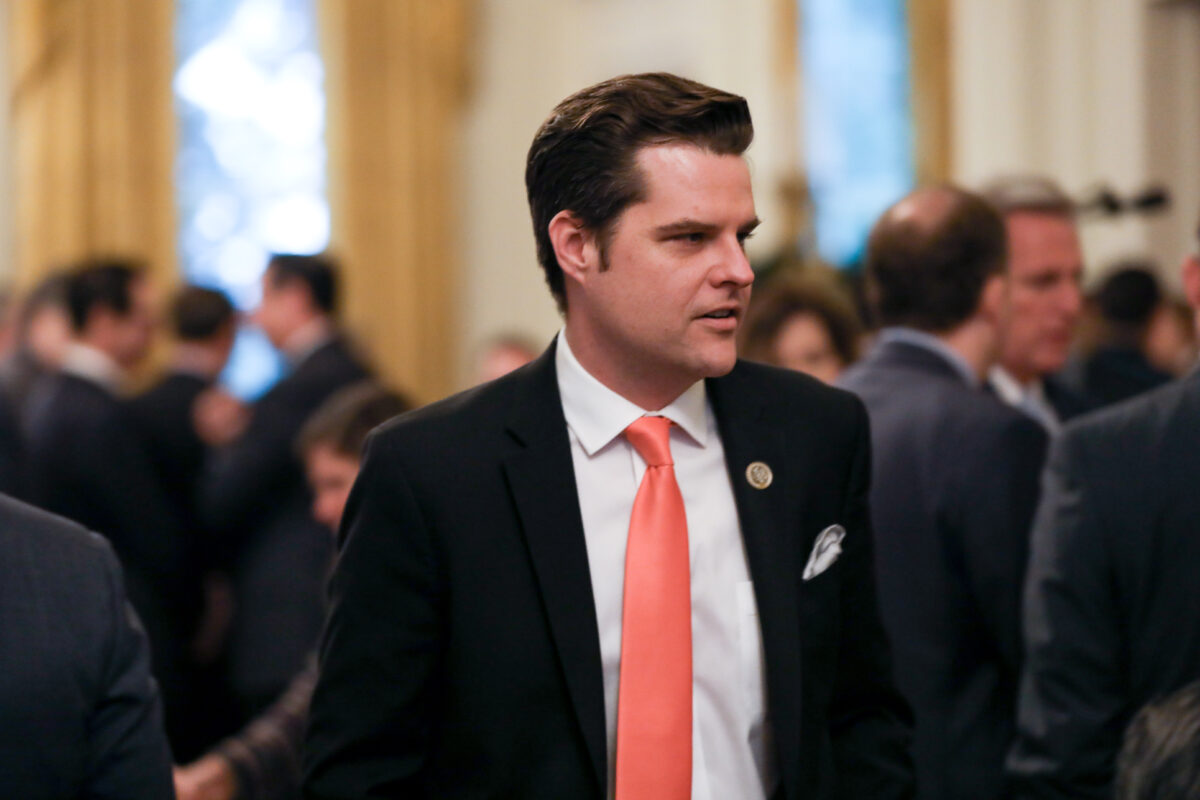 Women working for Rep. Matt Gaetz (R-Fla.) on Thursday offered their support for the congressman amid reports he's being investigated.
"After the shocking allegations last week in the press, we, the women of Congressman Matt Gaetz's office, feel morally obligated to speak out," the statement, released by Gaetz's office, read.
"During Congressman Gaetz's time in office, we have been behind the scenes every step of the way. We have staffed his meetings. We have planned his events. We have traveled with him. And we have tracked his schedule. Congressman Gaetz has always been a principled and morally grounded leader. At no time has any one of us experienced or witnessed anything less than the utmost professionalism and respect. No hint of impropriety. No ounce of untruthfulness," the women added.
In Gaetz's office, "women are given every opportunity to advance and utilize our talents to help the country in the best possible way," the statement continued. "On every occasion he has treated each and every one of us with respect. Thus, we uniformly reject these allegations as false."
No one signed the statement by name. Instead, it was signed "The Women of the Office of U.S. Congressman Matt Gaetz."
Anonymously-sourced reports allege Gaetz is under federal investigation for possible crimes, including paying a minor for sex. Gaetz has vehemently denied the reports and detailed an alleged extortion scheme against him and his family that involved a group approaching his father and asking for $25 million to make his son's "future legal and political problems go away."
Former Air Force officer Bob Kent, who was identified as part of the scheme, acknowledged this week that he did ask Gaetz's father for the money but said describing the effort as extortion was inaccurate.
"There is no threat. I don't have anything to do with the indictment. I don't have anything to do with the investigation into Matt Gaetz," Kent said during an appearance on CNN. "There were no threats, there were no demands."
Gaetz associate Joel Greenberg, a former Florida county tax collector, appeared in court earlier Thursday and his lawyer suggested he is cooperating with federal officials, Politico reported.
"I am sure Matt Gaetz is not feeling very comfortable today," Greenberg's attorney, Fritz Scheller, told reporters after the meeting. He said that discussions with federal prosecutors are ongoing and would take time to culminate in a plea deal.
Gaetz was not mentioned by name during a brief hearing.


View original Post