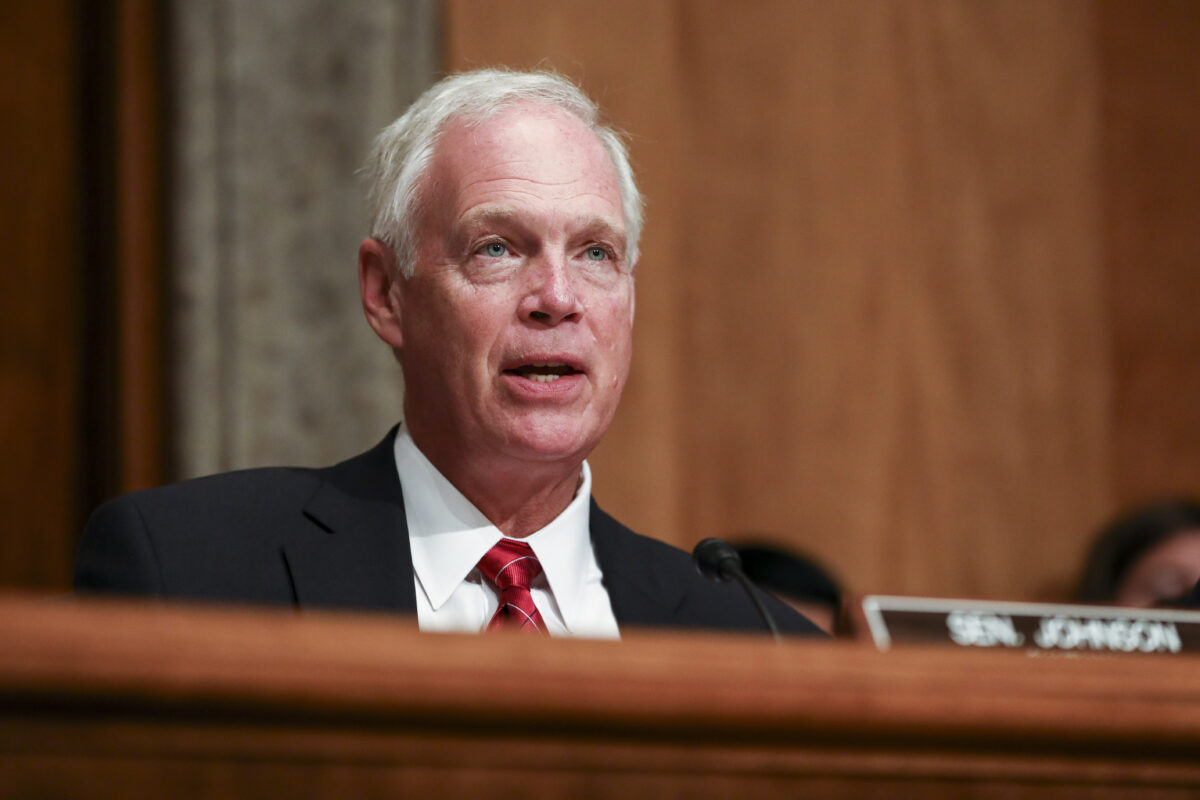 Sen. Ron Johnson (R-Wis.), in response to the House's vote to establish a Jan. 6 commission, said that the Capitol breach on that day was largely a "peaceful protest."
Johnson told Fox News that the narrative pushed by Democrats, a small number of Republicans, and some corporate media outlets that the Jan. 6 breach was "an insurrection" is false. That narrative came to the center stage during the January impeachment effort against former President Donald Trump.
"Even calling it an insurrection, it wasn't," he told the broadcaster on Wednesday, adding: "I condemned the breach. I condemned the violence, but to say there were thousands of armed insurrectionists breaching the Capitol intent on overthrowing the government is just simply false narrative."
Some of his constituents in Wisconsin who went to the "Stop the Steal" rally as both chambers of Congress met to certify the Nov. 3 election told him that it was largely a peaceful affair and that there were far fewer rioters, according to the senator.
Video footage showed a few hundred people breaching the Capitol, and some were seen on videos attacking police officers, according to prosecutors. The Jan. 6 rally that featured President Donald Trump and Rudy Giuliani was attended by possibly tens of thousands of Trump supporters.
The Department of Justice has charged more than 300 people with Capitol breach-related offenses, while the respective heads of the FBI and DOJ have said that due to Jan. 6, their agencies will be increasing investigations into what they describe as "domestic violent extremists."
And some lawmakers, during the second Trump impeachment, claimed that Capitol Police officer Brian Sicknick was killed by fire extinguisher-wielding protesters and cited an anonymously sourced New  York Times article for their claim. However, it was later revealed by the Washington Medical Examiner's Office that Sicknick died of strokes and was ruled natural causes. Before his cause of death was revealed, the NY Times issued an update that essentially retracting the claim that Sicknick was killed by rioters.
"By and large, it was peaceful protest, except for there were a number of people, basically agitators that whipped the crowd and breached the Capitol. That's really the truth of what's happening here," Johnson said, adding that he doesn't support an independent Jan. 6 commission into the breach.
Democrats on the House floor argued that it's necessary to establish a commission and some accused top Republicans of capitulating to Trump, who still holds significant sway over the GOP.
"Today, over four months later, many questions regarding the circumstances of this assault on our democracy and response to it remain," said House Speaker Nancy Pelosi (D-Calif.) on Wednesday. "It is imperative that we seek the truth of what happened on January 6th. And to do that, Congress must, in a spirit, I believe, of bipartisanship and patriotism, establish an independent, bipartisan, 9/11-type Commission."
But top Republicans, including House Minority Leader Kevin McCarthy (R-Calif.) and Senate Minority Leader Mitch McConnell (R-Ky.), have expressed that they do not support the commission, alleging that it would be a slanted, politicized affair.
The head of the House Homeland Security Committee, Rep. Bennie Thompson (D-Miss.), meanwhile, said he spent months consulting Rep. John Katko (R-N.Y.) to come up with the measure, which both Thompson and Katko had described as bipartisan.
"It was as big a shock to the Speaker and all of us that our minority leader had not — well, he even said he had not seen it. Which we have letters from him responding to it. So it's not like he hadn't seen it," Thompson said, according to The Hill.




View original Post