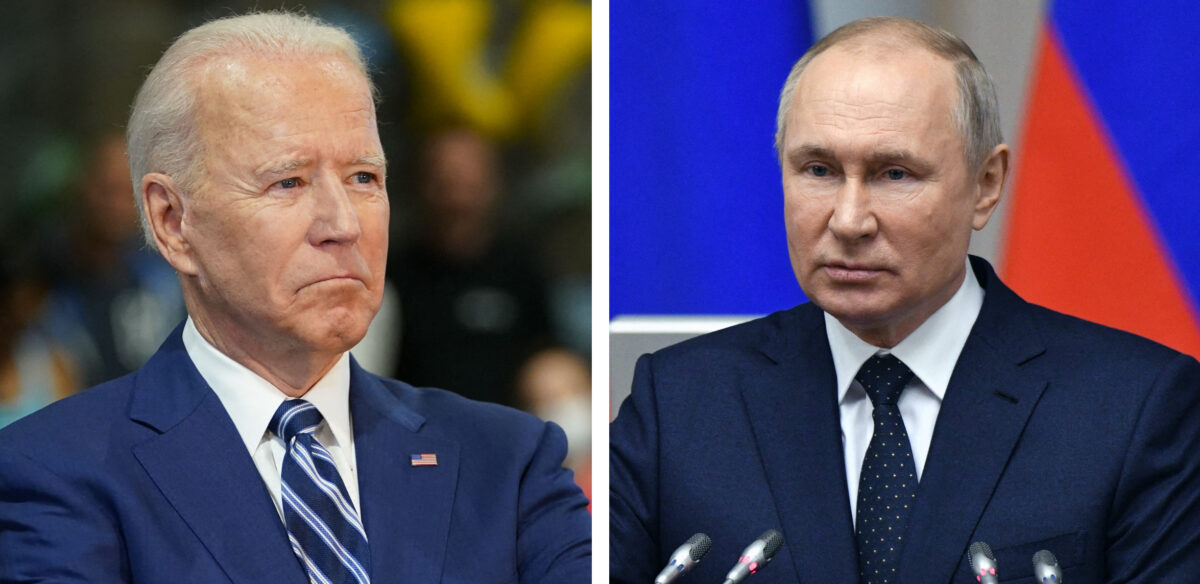 (L) President Joe Biden waits to speak as he visits the Sportrock Climbing Centers in Alexandria, Va., on May 28, 2021. (Mandel Ngan/AFP via Getty Images) (R) Russian President Vladimir Putin delivers a speech during a meeting with members of the Council of Legislators of the Federal Assembly, at the Tauride Palace, in Saint Petersburg, Russia, on April 27, 2021. (Alexei Danichev/Sputnik/AFP via Getty Images)
President Joe Biden on Friday said he spoke with Russian President Vladimir Putin and warned him about a spate of ransomware attacks on businesses and infrastructure that allegedly originate from the country.
In remarks to reporters, Biden said that officials do not believe the ransomware attacks are state-sponsored. However, he said that the United States would take action against the Kremlin.
"I made it very clear to him that the United States expects when a ransomware operation is coming from his soil, even though it's not, not sponsored by the state, we expect them to act if we give them enough information to act on who that is," the president said.
According to a White House readout of the phone call with Putin, Biden said he would "take any necessary action to defend its people and its critical infrastructure in the face of this continuing challenge."
Last week, a ransomware attack targeting software firm Kaseya impacted as many as 1,500 businesses, including a number of small businesses. Reports have suggested that the Russia-based group "REvil" is behind it, but that detail hasn't yet been confirmed publicly by any federal officials.
"We have set up a means of communication now on a regular basis to be able to communicate to one another when each of us thinks something is happening in the other country that affects the home country. It went well, I went optimistic," Biden added of his phone call with Putin.
Biden didn't provide any details about what punitive action would be taken against Russia should more ransomware attacks occur.
"President Biden also spoke with President Putin about the ongoing ransomware attacks by criminals based in Russia that have impacted the United States and other countries around the world," said the White House's readout of the phone call between the two leaders. "President Biden underscored the need for Russia to take action to disrupt ransomware groups operating in Russia and emphasized that he is committed to continued engagement on the broader threat posed by ransomware."
Tensions between the United States and Russia have increased since Biden took over in January amid several high-profile security breaches of U.S. infrastructure.
The Colonial Pipeline that delivers fuel to the East Coast was disrupted following a multimillion-dollar ransomware attack, while meat processor JBS Foods was hit with a similar attack. Both breaches were attributed to Eastern European cybercriminal gangs.
Prior to that, federal officials pinned the monthslong SolarWinds cyberattack, which impacted several U.S. agencies, on Russian malign actors.


View original Post