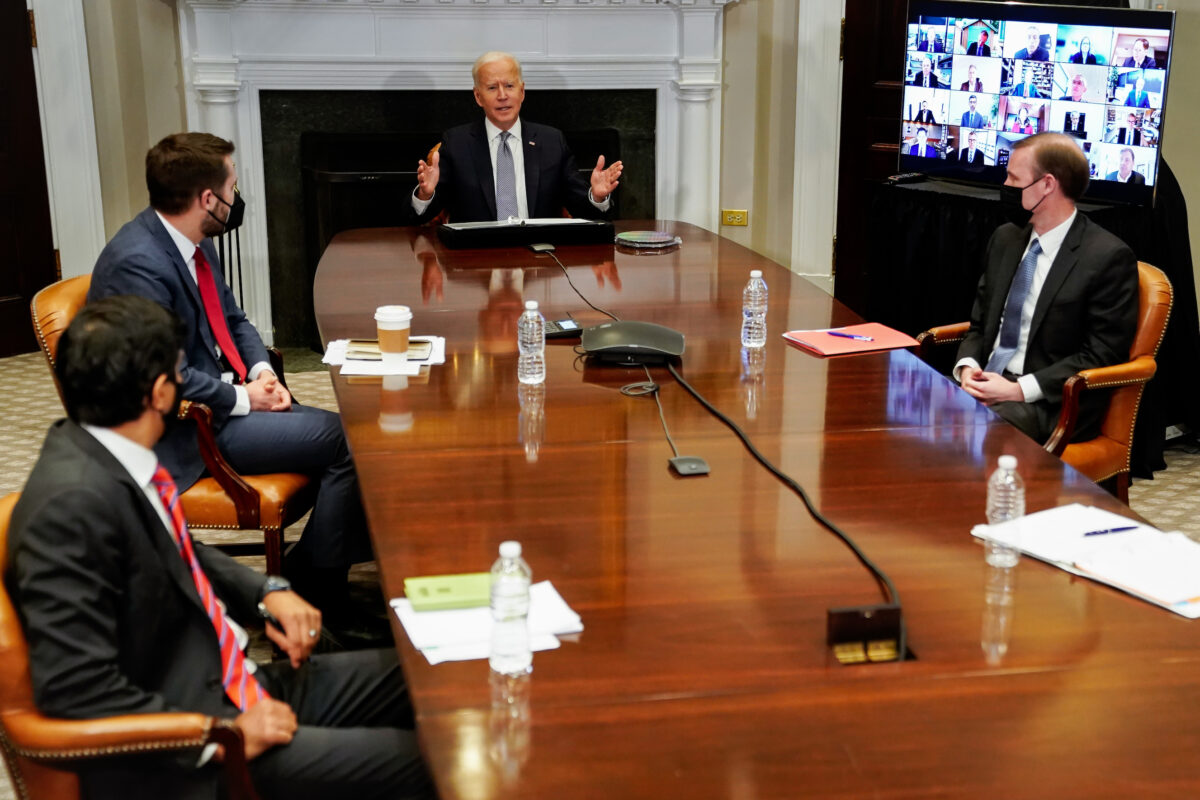 WASHINGTON—President Joe Biden called for a significant investment to revitalize U.S. chip manufacturing to counter China's threat to "dominate the semiconductor supply chain."
In an effort to address an ongoing global chip shortage and strengthen the domestic semiconductor industry, the White House hosted a virtual summit with business leaders on April 12.
"This is an issue that has broad support in the United States Congress," Biden said during the summit.
He referred to a letter he received from 23 senators and 42 House members from both sides of the aisle, supporting the "Chips for America program" that provides federal incentives to domestic chip manufacturers.
He said the bipartisan letter warned that "the Chinese Communist Party aggressively plans to reorient and dominate the semiconductor supply chain."
"I've been saying for some time now: China and the rest of the world is not waiting, and there's no reason why Americans should wait," Biden said. "We're investing aggressively in areas like semiconductors and batteries."
The summit came amid a significant global shortage of semiconductor chips that has forced automakers around the world to cut or halt production.
The event, titled "CEO Summit on Semiconductor and Supply Chain Resilience" included White House national security adviser Jake Sullivan, National Economic Council Director Brian Deese, and Commerce Secretary Gina Raimondo.
CEOs of AT&T, Micron, Intel, HP, Medtronic, General Motors, Ford, Cummins, and Google are among the 19 executives who attended the meeting, according to the White House.
Biden touted his $2.3 trillion infrastructure package, the "American Jobs Plan," which calls for $50 billion investment in critical technologies, including semiconductors.
The president's budget request for fiscal year 2022, released on April 9, also includes $150 million funding for two new manufacturing programs, one of which is aimed at advancing domestic semiconductor manufacturing.
Biden defended the price tag of his infrastructure plan by focusing on global competition, in an effort to attract Republican support.
"For too long as a nation, we haven't been making the big bold investments we need to outpace our global competitors. We've been falling behind on research and development and manufacturing. And put it bluntly, we have to step up our game," Biden said.
The administration is seeking ways to reduce the United States' deep reliance on China. On Feb. 24, Biden signed an executive order to "help create more resilient and secure supply chains for critical and essential goods."
The order focuses on choke points in the supply chains of four key products, including semiconductor chips, large-capacity batteries for electric vehicles, rare earth minerals, and pharmaceutical ingredients.
It has directed federal agencies to conduct a 100-day comprehensive review to identify supply chain risks and vulnerabilities for these key products.
Following the review, the administration officials said the White House could explore various policy options, including boosting domestic production and working with allies to develop a coordinated response to similar supply shocks in the future.
The pandemic has exposed the fragility of global supply chains and the vulnerability of the United States to business disruptions.
The demand for consumer electronics has surged during the pandemic, leading to the shortage of semiconductor chips. Automakers have been hit especially hard from this supply shock; many brands including General Motors and Ford have temporarily shuttered some of their plants in response.
"As vehicle demand rebounded more quickly than anticipated, automakers hadn't placed sufficient orders for chips last summer," Stephen Ezell, vice president at the technology think tank Information Technology and Innovation Foundation (ITIF), told the Epoch Times in an interview in February.
The core of the problem, according to Ezell, is that the automotive sector demands chips built from a one-generation older technology as it prefers mature and slightly lower-cost chips. Many semiconductor companies, however, have focused on the production of chips at the more-profitable leading edge during the pandemic, and that has caused a supply shortage for automakers.
It's difficult for chipmakers to scale new capacity rapidly as building new factories is a highly complex and expensive process, according to industry experts.
The chief executives of big U.S. semiconductor companies on Feb. 11 sent a letter to Biden, urging him to provide substantial incentives for domestic production "in the form of grants and/or tax credits, and for basic and applied semiconductor research."
"We believe bold action is needed to address the challenges we face. The costs of inaction are high," the group stated.
The U.S. share of global semiconductor manufacturing has dropped to 12 percent from 37 percent in 1990, mainly because of significant incentives and subsidies provided by other governments that reduced U.S. competitiveness.
In May 2020, Taiwan Semiconductor Manufacturing Co. (TSMC) announced that it would build a $12 billion advanced chip fabrication facility in Arizona. Mark Liu, executive chairman of the TSMC, was among the attendees of the virtual summit hosted by the White House.
Intel also announced on March 23 that it would spend $20 billion to build two new semiconductor factories in Arizona.


View original Post