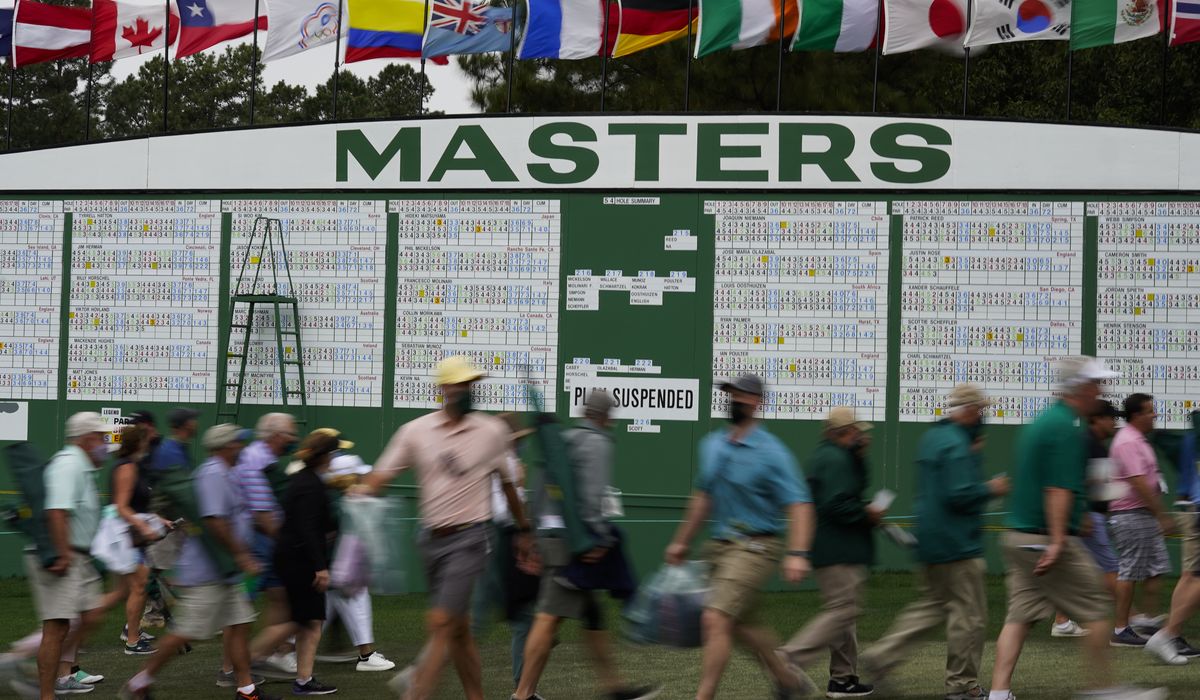 ViacomCBS took a public stand against the hotly disputed Georgia election law, but luckily for CBS Sports, neither the Masters Tournament nor the PGA Tour refused to follow in Major League Baseball's footsteps with a boycott.
The network was able to have it both ways when the Augusta National Golf Club in Georgia rejected calls to relocate or cancel the Masters, allowing CBS to begin Saturday its coverage of the prestigious golf tournament while stoking opposition to the recently signed Georgia Election Integrity Act.
Conservatives were quick to point to "CBS's hypocrisy," as the conservative Media Research Center put it.
"CBS was all too eager to promote the far-left boycott of Georgia, and lobbied businesses to join them," tweeted the MRC. "Now they've dropped all that to air The Masters that they were just days ago encouraging people to boycott."
The MRC pointed out that "CBS Morning News" hosts Gayle King and Adriana Diaz quizzed corporate figures on whether their public statement opposing "discriminatory legislation"—but not calling for a boycott—went far enough.
In a March 31 exchange with former Xerox CEO Ursula Burns, Ms. King said "there was no call for a boycott even though other people are calling for boycotts. Why was the decision not to go that far?"
Added Ms. Diaz: "Is that enough, just to release a statement to make this proclamation? How will that actually bring about change in your view?"
CBS News also came under fire for an April 2 article headlined "3 ways companies can help fight Georgia's restrictive new voting law," which was later changed to, "Activists are now calling on big companies to challenge new voting laws," as shown on Mediaite.
"Oh, why thank you @CBSNews for your very objective straight news 'reporting' on this matter," tweeted former Fox and NBC host Megyn Kelly.
ViacomCBS joined dozens of U.S. corporations coming out against Senate Bill 202 with a statement vowing to "continue to educate the public on the importance of an open and fair voting system through our programming and extensive partnerships with grassroots organizations that promote and increase participation in elections."
"We unequivocally believe in the importance of all Americans having an equal right to vote and oppose the recent Georgia voting rights law or any effort that impedes the ability to exercise this vital constitutional right," said ViacomCBS in the March 31 release.
Ms. King noted on Thursday's show that "ViacomCBS, that's us, is one of many companies publicly opposing the voting law."
Augusta National chairman Fred Ridley rejected the boycott calls and declined to speak on the law's specifics at a Wednesday press conference while emphasizing that "voting is an essential fundamental right in our society."
"We realize that views and opinions on this law differ, and there have been calls for boycotts and other punitive measures," said Mr. Ridley via the Atlanta Journal-Constitution. "Unfortunately, those actions often impose the greatest burdens on the most vulnerable in our society. And in this case, that includes our friends and neighbors here in Augusta who are the very focus of the positive difference we are trying to make."
CBS was all too eager to promote the far-left boycott of Georgia, and lobbied businesses to join them.

Now they've dropped all that to air The Masters that they were just days ago encouraging people to boycott. https://t.co/GwRAB2TKjR


— MediaResearchCenter (@theMRC) April 8, 2021
Critics have pointed out that MLB's decision to pull the All-Star Game will deliver an estimated $100 million hit to Atlanta, where 51% of residents are Black and nearly 30% of businesses are minority-owned.
Instead, the game will be played in Denver, which is 9% Black and 76% White.
After former President Barack Obama cheered MLB for its show of opposition to the Georgia law, conservative media critic Steve Krakauer quipped, "Let's not stop there."
"How dare CBS air The Masters live from Georgia next week! (Also: "masters" uh are we not getting the connotation here?)" tweeted the former CNN producer. "The Masters must be moved from Georgia and renamed immediately, or CBS must not air it, President Obama can we agree on this?"
Other conservative observers have complained about corporate hypocrisy and virtue signaling, arguing that liberal Democratic states like New York, where Major League Baseball is headquartered, and Delaware, President Biden's home state, have more restrictive voting policies in place than Georgia.
The Masters, the only one of the four PGA majors always held in the same location, has been broadcast since 1956 by CBS, which airs this year the final two days of the four-day tournament. ESPN broadcast the first two days.
The Washington Times has reached out to CBS for comment.
Among those calling for a boycott of the Masters are the National Black Justice Coalition and former ESPN anchor Keith Olbermann.
Former Georgia gubernatorial candidate Stacey Abrams has led the opposition to the Georgia law while also seeking to discourage boycotts, saying, "Do not boycott us" in a March 31 video, prompting Georgia Gov. Brian Kemp to accuse her of a "flip flop."




View original Post